Pasta salad is a summertime staple, and if you're on the hunt for a healthier version, look no further! This high-protein pasta salad swaps Banza chickpea pasta for traditional noodles to pump up the protein without sacrificing flavor.
Layered with classic Italian ingredients like salami, mozzarella, and colorful vegetables, this chickpea pasta salad will be a hit with the whole family. Bring this protein-packed pasta salad to share at your next potluck, or enjoy it as a simple, flavorful meal prep recipe.
Chickpea pasta vs. traditional pasta
First things first, let's talk about the star of this protein pasta salad recipe – chickpea pasta. I used Banza chickpea pasta which has double the protein and fiber compared to traditional noodles.
Banza noodles come in various shapes and sizes, all made from chickpeas. While a classic Italian pasta salad calls for rotini noodles, I choose cavatappi for a little extra flair.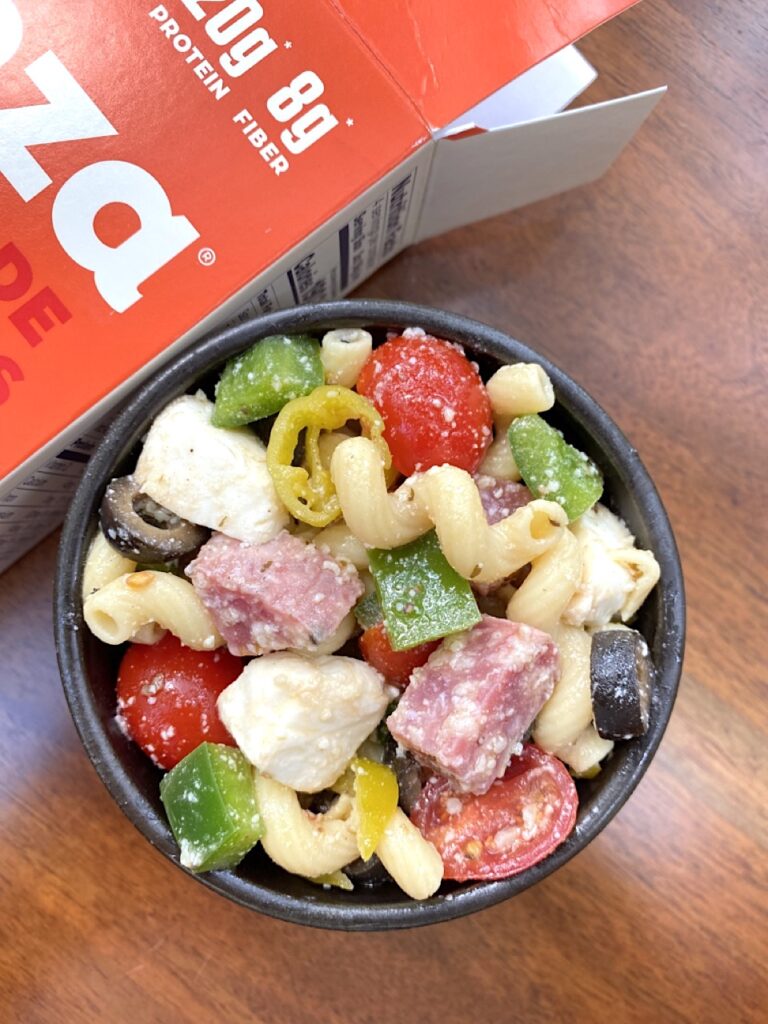 The extra fiber and protein in chickpea pasta help curb the post-meal glucose response making it a blood sugar-friendly noodle option. On top of that, substituting chickpea for wheat pasta makes this recipe gluten-free.
However, beware of noodles that say "made with" chickpeas. Food labeling can be misleading, so check the ingredients list to ensure the noodle is made from chickpeas – not wheat flour with a sprinkle of chickpeas. Marketing on the front of food packages can be tricky!
By using your noodle and replacing wheat pasta with chickpeas, you'll stay fuller, longer without the awful blood sugar crash that follows bellying up to your favorite pasta dish.
You can see how one serving of this protein pasta salad recipe barely nudged my glucose levels.
By avoiding the dreaded blood sugar rollercoaster, you'll notice more energy, less cravings, and better weight loss progress.
For personalized meal scores like this, save $30 on CGM with Veri and see how food, exercise, sleep, and stress affect your glucose levels. Or apply today to learn more about my coaching program with CGM.
With one simple swap, you can enjoy pasta guilt-free and model healthy eating for family and friends. Save and share this healthy recipe for the next time you hear, "Who made the pasta salad?!" 😉
Tips for cooking chickpea pasta
For best results, avoid overcooking chickpea pasta. I've learned to babysit my noodles while they are boiling, as chickpea pasta tends to foam and boil over more than traditional or wheat pasta. Consider this a fair warning to stay on high alert.
Chickpea pasta also cooks faster, so check the recommended cook time on the package. Remove when the noodles are al dente, which translates to "to the tooth," meaning the pasta has a faint bite or firmness.
Remember, your chickpea pasta will absorb liquid from other ingredients in the recipe, so undercooking it just a bit yields the best texture and prevents soggy noodles. When the pasta is cooked to your liking, rinse with cold water to stop the cooking process.
Protein pasta salad ingredients
My favorite feature of this protein pasta salad is that it's highly customizable. Add or omit vegetables and ingredients to your liking.
For example, add diced red onion or chopped yellow bell pepper for extra color and crunch.
Take this recipe from Italian-inspired to pizza-flavored by adding uncured, nitrate-free pepperoni or your family's favorite pizza toppings.
Experiment with a variety of cheeses such as cubed colby jack or feta. Consider this high-protein pasta salad recipe a template for creating your next favorite pasta salad recipe. The possibilities are endless!
The best dressing for pasta salad
As a dietitian, one thing I'm picky about is the quality of condiments I purchase. Sadly, most dressings and condiments like ketchup, barbeque sauce, and marinades are loaded with added sugars and inflammatory oils.
For this chickpea pasta salad recipe, I used Primal Kitchen Italian dressing made with avocado oil and zero added sugar. Be a smart shopper and always review the ingredients list.
For help selecting the healthiest cooking oils, download a free dietitian-approved grocery list and avoid pro-inflammatory, highly refined oils. You'll be shocked to see how many salad dressings are loaded with them!
Don't sweat it if it's not in your budget to upgrade to a higher-quality salad dressing. You're here, reading this, so it's apparent that you care about your health. Level up your pasta salad one step at a time, starting with the noodles.
Build your recipe arsenal with healthy dishes like this protein pasta salad recipe and navigate social events with ease to crush your summer goals. Bon appétit!
Helping women after bariatric surgery lose weight without eating "perfect." Learn how to balance blood sugar & optimize your "tool" today! Apply to learn more!
This post may contain affiliate links. When you make a purchase through any of the links, there is no additional cost to you, and I may earn a small (and very appreciated) commission. Thank you for your support!
High-Protein Chickpea Pasta Salad
Enjoy this high-protein pasta salad at your next potluck or make it your go-to summer meal prep recipe! Made with Banza pasta, this Italian-inspired chickpea pasta salad is protein-packed and blood sugar-friendly.
Ingredients
1

8 oz box

Banza chickpea pasta

cooked and drained

8

oz

Italian dry salami

cubed

8

oz

fresh mozzarella pearls

8

oz

cherry tomatoes

halved

1

green pepper

diced

1

cup

black olives

sliced

1/2

cup

pepperoncini peppers

sliced

1

cup

Italian dressing

1/2

cup

grated parmesan cheese
Instructions
Cook chickpea pasta according to package directions.

While pasta cooks, add remaining ingredients (except for grated parmesan) to a large mixing bowl.

Rinse pasta with cold water, drain, and add to mixing bowl. Stir to combine.

Sprinkle with grated parmesan and toss to combine. Mix just before serving to evenly distribute dressing and protein pasta salad ingredients.
Make-Ahead Instructions
You can make this recipe up to 24 hours in advance. Simply reserve the Italian dressing and grated parmesan. Add just before serving and mix well to combine.
Nutrition Facts
Per serving (about 3/4 cup): 300 calories, 21 g fat, 15 g net carbohydrates, 13 g protein