Last Updated on March 8, 2023 by Kayla
Introducing the perfect combination of flavor and texture – a high-protein, low-carb inside-out egg roll in a bowl! This quick and easy recipe is ready to enjoy in just 15 minutes!
Plus, if you are using my dietitian-approved grocery list download, all ingredients are from the Foods to Favor list. Get a free grocery list today, which includes a mini-series on macronutrients for weight management.
Get creative with this inside-out egg roll bowl recipe, and add your favorite veggies or mix-ins to make it even more delicious. Enjoy the satisfying crunch of a traditional egg roll without any of the guilt!
Inside-out egg roll ingredients
This recipe calls for coleslaw mix and edamame for an extra protein kick. Add or substitute your favorite vegetables for extra bulk, fiber, and maximum satisfaction. Try a variety of textures and colors to suit your preferences.
For example, you might consider adding the following to this inside-out egg roll bowl recipe:
bamboo shoots
bean sprouts
bok choy
broccoli
carrots
green beans
onion
radishes
red peppers
snap peas
snow peas
For even more vegetables, serve over cauliflower rice. Or, for a more 'noodly' dish, you could use an option like low-carb konjac noodles or high-protein legume pasta.
Egg roll in a bowl on a Blackstone griddle
Whether you're serving the family or a crowd, try this egg roll in a bowl recipe on a Blackstone griddle. It will take the griddle longer to warm up than to make this healthy, high-protein meal!
Heat your Blackstone to medium-high and follow the instructions below. With increased surface area, this egg roll bowl recipe will cook fast. I suggest removing the ingredients from the grill while the vegetables are still crisp to avoid overcooking.
This recipe is an excellent way to satisfy your craving for Chinese food and get your daily dose of protein and vegetables without sacrificing flavor!
Be sure to tag me if you try this quick and easy inside-out egg roll bowl recipe! For more high-protein, bariatric-friendly recipes, check out my recipes page!
Bon appétit!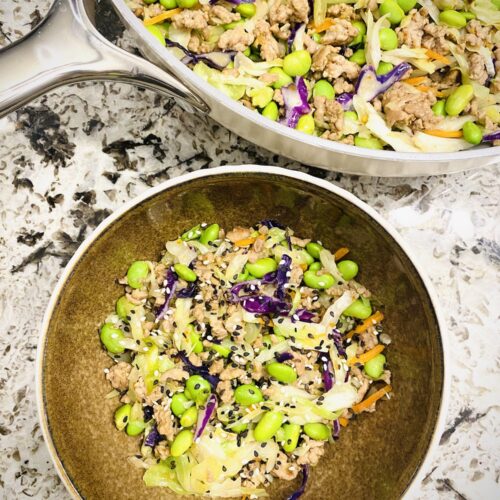 Inside Out Egg Roll Bowl (low carb, keto, gluten-free)
This low-carb, high-protein egg roll in a bowl recipe comes together in less than 20 minutes and makes for the perfect weeknight meal!
Ingredients
1

Tbsp

coconut oil

1

lb

ground pork

1/2

tsp

red chili flakes

optional

1/2

Tbsp

minced garlic

1/2

Tbsp

minced ginger

2

Tbsp

liquid aminos

or soy sauce

1

12-oz package

frozen edamame

thawed

1

16-oz bag

coleslaw mix
Instructions
Melt coconut oil over medium-high heat. Add ground pork and red chili flakes (optional); cook until browned.

Add garlic, ginger, and liquid aminos (or soy sauce); cook for 1-2 minutes.

Add edamame and coleslaw mix and cook until cabbage is tender-crisp, about 3-5 minutes.
Nutrition Facts
Per serving (about 1 1/2 cups): 370 calories, 25g fat, 12g carbohydrates, 23g protein
This post may contain affiliate links. When you make a purchase through any of the links, there is no additional cost to you, and I may earn a small (and very appreciated) commission. Thank you for your support!