Last Updated on February 22, 2023 by Kayla
Ditch the Swiss Miss hot chocolate with over 20 grams of added sugar, and try this healthy high-protein collagen hot chocolate recipe. It clocks in with nearly 30 grams of protein and no sketchy fillers or ingredients you can't pronounce.
I make this recipe with Vital Proteins chocolate collagen peptides which includes just a handful of ingredients that you can actually read!
Otherwise, the ingredients in this collagen hot cocoa recipe are simple yet carefully considered, and I've provided two optional add-ins to suit your taste buds and nutrition goals.
The perfect pair
Collagen lacks one essential amino acid – tryptophan – making it an "incomplete protein." However, when paired with cow's milk which has tryptophan, this combo makes the perfect pair and together make a "complete" or high-quality protein.
Unless you're sensitive to casein, the main protein found in cow's milk, there is no advantage to using milk alternatives – in my professional opinion anyway. So skip the almond or oat milk and opt for the real thing.
For anyone sensitive to lactose, the primary sugar in cow's milk, try a lactose-free version like fairlife milk, which packs an even bigger protein punch.
Sweet & salt opt-ins
For a salty twist on this collagen hot cocoa recipe, I like adding a 1/2 packet of LMNT chocolate salt. This salty, sweet combo is incredibly filling, and the extra dose of salt helps combat cravings.
Additional salt and electrolytes like those found in LMNT drink mix packets are especially beneficial for anyone following low-carb or keto-style eating or practicing intermittent fasting.
Personally, I've noticed profound performance improvements by supplementing salt and electrolytes before a workout. To read more on why more salt, not less benefits your health, check out the skinny on salt here.
For an extra smooth, frothy texture, I Iove using a handheld milk frother. It's one of my favorite kitchen gadgets and makes for a low-cost gift or stocking idea for a friend or loved one.
Lastly, I recommend topping your collagen hot chocolate with a dollop of whipped cream – the real stuff – not that Cool Whip processed crap. And be sure to sneak an extra mouthful of whipped cream straight from the can – for good measure, of course.
Keep this recipe simple with just milk and chocolate collagen, like my favorite Vital Proteins chocolate collagen peptides, or jazz it up with the mix-ins mentioned here.
Enjoy!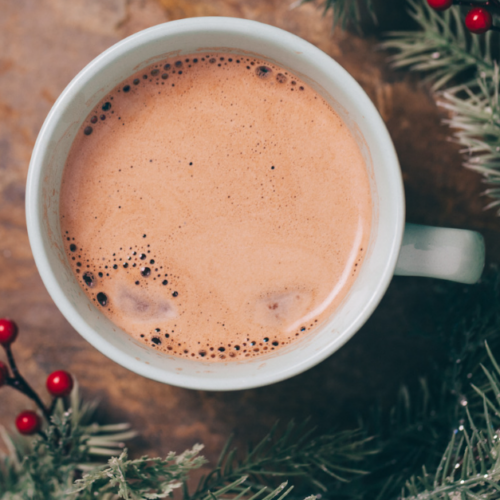 Collagen Hot Chocolate Recipe
Warm up with this low-sugar, high-protein collagen hot cocoa recipe. A healthy, hearty drink for even the coldest of days!
Ingredients
1

cup

2% milk

2

scoops

Vital Proteins chocolate collagen peptides

whipped cream

optional
Instructions
Add milk to a microwavable mug. Heat for 90 seconds.

Add 2 scoops of chocolate collagen; mix with handheld milk frother.

Top with whipped cream, if desired.
Nutrition Facts
Per serving (prepared with 2% milk): 215 calories, 5g fat, 16g carbohydrates, 28g protein
This collagen hot chocolate recipe provides high-quality protein including all essential amino acids. It's sweet, filling, and makes a wonderful afternoon pick-me-up or evening nightcap.
I hope you enjoy this collagen hot cocoa! Don't forget to tag me if you try it!
This post may contain affiliate links. When you make a purchase through any of the links, there is no additional cost to you, and I may earn a small (and very appreciated) commission. Thank you for your support!